The Sikh community of L.A. presented a replica of the kitchen, which feeds 100,000 daily.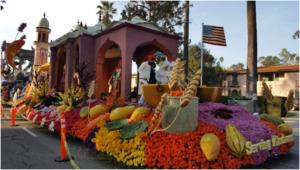 Pasadena, CA – A replica of the world's largest free kitchen at the Golden Temple in Amritsar, India, was featured and won Leishman Public Spirit Award (most outstanding floral presentation from a non-commercial participant) during Monday's 129th Rose Parade in Pasadena.  The Sikh community of Los Angeles/United Sikh Mission USA's entry titled "Serving Kindness" honored Sikh teachings of selfless service and equality through Langar (a free community kitchen) in which all markers of religions, caste, color, age, gender and social status are removed to make way for sharing, community, inclusiveness and oneness in humankind.
Sikh temples and communities all over the world are at the forefront of providing langar, aid and relief to the homeless, families in need, victims of catastrophes such as hurricanes in Houston and Puerto Rico, and more recently, California wildfires.
"Growing up in Pasadena and La Cañada, it was always a dream to see a Sikh float in the Tournament of Roses Parade," said Bhajneet Singh, a member of the Sikh committee responsible for the float entry. Somehow, in the last four years we've realized this dream. I think this speaks volumes of the Tournament of Roses Parade – its message of service and unity, and also of the Sikh community's commitment to share in this vision," added Singh."
Utilizing 90,959 flowers and 500 lbs. of vegetables (including: bright purple, white, and green cauliflower heads, bitter melons, collard, Swiss chard, butternut, red kuri, and colorful squash, zucchini, carrots and bell peppers), which are symbolic of those used to prepare meals at the temple's Langar Hall, the float showcased beautiful brick walls, a marbled dome roof, and scalloped arches to replicate those found at the Golden Temple, one of India's most visited sites.
The anterior replicated super-sized cauldrons used to prepare lentils, rice and vegetables, while the middle dome housed a large griddle that makes 25,000 Rotis (flat bread) per hour, and the posterior features beautiful embroidered umbrellas generally used to give shade to volunteers who prepare the delicious vegetarian meals served to visitors at the holy shrine. The float also highlighted the ancient Jujube trees of the Golden Temple considered to be more than four hundred years old. Float riders were members of the Sikh American community who are involved in disaster relief work, run food pantries and are dedicated to selfless service to humanity.
From December 26-30, 2017 more than 1,400 volunteers donated over 11,200 hours of their time for floral and dry decoration alone on the float.